ALEX CASTIELLO - DEFENDER
Alex is a semi professional footballer playing in the Western Australian Premier league looking for the next opportunity.
He is 26 years of age, who played centre half most of his youth as well as right back but most recently he has been playing as a holding midfielder. He has an excellent first touch and physically dominates his opponents on the ground and in the air. Alex has had interest from UK and Spanish professional football teams, and, having now completed his University Studies, is ready to make the move up.
Alex weighs 90kg and is 6' 1" tall.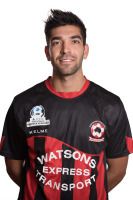  2009-2012 NTC (Youth State team) Centre Back
 2011-2013 Stirling Lions first team Centre midfield
 2013-2014 Cockburn first team Right Back
 2014-2015 Perth Glory Youth Centre Back
 2015-2017 Perth Italia first team Centre Back
 2017-2018 Subiaco First Team
 2019-2020 Balcatta First team
 Professional Youth contract with Perth Glory. Travelling around Australia competing in national youth league.
 Selected for Perth glory first team friendly pre season
 Men's state team 2017
 Men's state team 2019
 Men's state team 2020
 Selected as National finalist for Nike the chance with Tom Rogic in Canberra.
 2017 Runner's up most valuable player (Subiaco)
 2019 Most valuable player (Balcatta)